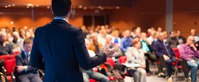 You Will Learn How To ...
• Apply powerful performance techniques for business, a series of nonverbal skills and the mindfulness of body language - the way you look, sound, move - that engage, influence, inspire and persuade.
• Develop compelling content including personal stories that encourage natural communication based on shared affinities, while avoiding the habitual tendency to overwhelm your audience with too much technical information.
• Skillfully manage the awkwardness and tension that naturally occurs in the body when speaking and learn to be present and comfortable.
• Create speaker/presentation notes that are easy to remember and help you keep track of your content/dialogue while speaking to an audience.
• Learn key techniques that make effective use of your limited time during elevator pitches.
• Anticipate questions (and objections) and maintain your composure in difficult situations.
Transfer your skills to video and media (if applicable), both critical elements in today's social media driven and digital business environment.
Do you or members of your team lack the presentation skills needed to win over your audience? You have the knowledge. You know your audience. But there is one problem... You don't know the right combination of message and delivery skills to motivate decision-makers, prospects, or investors into action.

As a professional you may sometimes feel that you are less than effective when presenting your services to prospective clients or investors. You may lack knowledge in knowing "how to say it" both verbally and physically leaving you to become less than confident therefore producing a undesirable lasting impression.
You want to represent yourself, your company or firm in a positive light knowing that you delivered what you set out to do.
Any professional can master the art of speaking and communication by learning a series of concrete skills. By presenting your materials in a confident and skillful manner, you will demonstrate to your audience that you are both savvy and comfortable engaging with them.
Today we are all entrepreneurs representing our personal brand, whether you are a Founder, CEO, Partner, Conference Speaker, Consultant or High-level corporate executive... and the world is watching.
Command The Stage will equip you with tips, tools and techniques required to see a noticeable difference in your internal and external interactions.
Starting March 19th, 2018, with "in-house" workshops twice per month for 6 months, the program focuses on the systematic mastery of presentation and communication skills, as well as content and messaging enabling you to engage, educate, inspire, and provoke action both internally (with colleagues/teams) and externally (with prospective and current markets).
These skills are fully transferable off-stage/off-camera and applicable in daily life.
Executive Course Investment
6 Month Program- SPACES ARE LIMITED to guarantee proper client attention
Early Bird Special (paid in full)
Join before March 16th and save $600
Regular Rate (paid in full)
Installment Plan
Monthly Payment Plan Available (for 6 months)
Speaker 3-Day Bootcamp
A speaking bootcamp tailored specifically for your company needs is available
Register Today
Please leave us your details and we'll get back to you as soon as possible.